Jasmine infused syrup
pineapple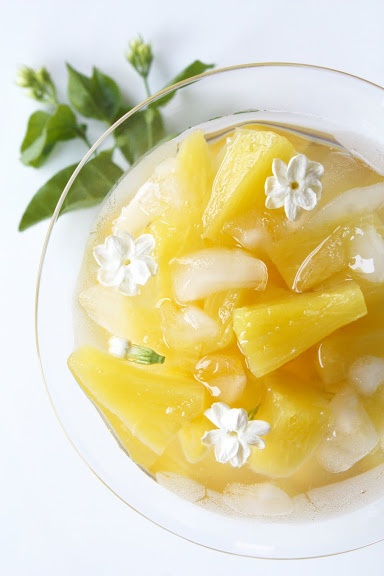 Place sugar, water, and cloves in a large pot; bring to a gentle boil.
Add the pineapple pieces to the syrup, bring the mixture to a gentle boil once more, reduce the heat to a low simmer, and allow to cook, uncovered, for 5-8 minutes.
Turn off the heat and let the pineapple cool completely in the syrup. Do not cover the pot.
Once the mixture has cooled completely, take out the pineapple pieces and cloves. Strain the syrup through a fine-mesh strainer.
Stir the jasmine flowers into the strained syrup and let the mixture infuse at room temperature for about 2-3 hours, then strain out and discard the flowers. If you don't have jasmine flowers, simply add the jasmine extract to the syrup and you're done.
To learn more about Thai Desserts do visit Shesimmers.com
I love flowers and deliver fabulous flower arrangements across India and specially designed one across Mumbai.
Do visit me at www.spring-blossoms.com to send flowers to Mumbai
tags: floral arrangements, flowers, send flowers to mumbai
Posted by Laxmi Lobo in Flower Ideas on October 18, 2013Comment?
Create a Lemon Vase arrangement
lining vase lemon
Its very easy to line a vase with lemon to bring the zesty fragrance of lemons to your floral display.
Take a large cylindrical vase and add to it a small one in the center.
Pack the gap with well cut thick slices of lemon.
Now your ready to add flowers to the center vase.
lemon with flowers
Contrasting colours look fabulous on a bright sunny day and equally lovely to bring cheer to a dull monsoon day.
Flowers from you garden will look just as good.
Do visit my website for great ideas and deliverable flowers across India.
If you have flowers to send in India go to:
www.spring-blossoms.com
tags: Arrangement, centrepiece, dramatic flowers, Floral, floral arrangements, India, India flowers, making floral centerpiece
Posted by Laxmi Lobo in Flower Ideas on September 28, 2013Comment?
Hand carved Soap Flowers
These beautiful images above are soap carvings. They are delicatetly carved by hand in Thailand.
This is an old art form in Thailand, slowly dying out.
I cam across a blog that give you more insights into this industry.
This dying art of making hand carved soap flowers originated in what was known as the little village in northern Thailand of Chiang Rai. The people from the village started carving these soaps as a hobby. Soon the true artist developed it into a successful business to support their families.
All the photos and the video is the work of gifted artist Patcharin Thanomworakul.
The container itself is a work of art. She does not make these but each one is handmade from mango trees, which are plentiful here in northern Thailand.
tags: dramatic flowers, Flower, flowers, gifts
Posted by Laxmi Lobo in News and Articles on September 25, 20131 Comment »
Heard of foul smelling Flowers?
You thought that flowers always smell fragrant, some of these Tropical flowers are seriously foul smelling.
The smell is like dead flesh and vomit inducing.
Can we call these flowers?
Take a look.
voodoo-lily
It's a beautiful pink flower but don't let its good looks fool you. The Voodoo Lily is related to the same family as the Calla Lily, but unlike its popular relative, you should avoid the use of this flower in your floral arrangements. It emits a disgusting rotting flesh odor, which help attract flies and other pollinators, but it won't help you attract any friends!
rafflesia-arnoldii
The Corpse flower is rare and considered endangered. The buds take months to develop and the flower only last for a few days. Found in the rainforests of Indonesia. It emits a strong odor of decaying flesh.
titan-arum-e1344616815671The titan arum can reach heights of 10 feet or more, making it one of the largest and stinkiest flowers in the world. Even though this gigantic flower stinks like decaying flesh and rotten eggs, people having been making trips around the world to see this flower bloom. It's a rare sighting.
For more information on smelly flowers go to Fun Flowers
Posted by Laxmi Lobo in News and Articles on September 19, 2013Comment?
Living Embroidery with Flowers
dress
This is a real flower wedding dress from the "living embroidery collection" from Zita Eleze.
This an absolutely brilliant and creative wedding dress, quite rarely does something take your breath away and this living flower dress is indefinably one of those moments.
"The skirt and trains of the dress were made of little bunches of stipa – this is a grass that is very soft and feels like fur.
The little bunches of grass were then glued onto the silk organza material. The bodice was built up with the same garments used for a normal wedding dress. The little flowers, seeds, and leaves were glued to the bodice giving the impression of a fine embroidery…"
bag
Love it, its brilliant, you can actually be a flower fairy on your wedding day 🙂 and the Parasol below is really my most favorite, it complements the whole attire and its surely a flower fairy weeding in summer.
umbrella
Continue reading here
For delightful Flower deliveries across India do visit www.spring-blossoms.com
tags: dramatic flowers, Flower, flowers, Wedding
Posted by Laxmi Lobo in Flower Ideas on April 29, 20133 Comments »
Lightweeds
An installation by Simon Heijdens that traces and amplifies the leftovers of nature in the urban surrounding.
White silhouettes of trees projected 8 meters high onto the facades of several buildings in a city.
Its branches and leaves are moving either slightly or intense; directly to the measured wind that passes the facade of the building on which it is projected.
Starting full of leaves at dawn, the tree looses one of its leaves each time someone passes it. When the leaf breaks of its branch, it drops down on the ground in an alley nearby. Because the leaves are made of light, they slowly brighten up the alley as they grow in amount over the course of the evening, and form a developing image that reveals the use of the city. The leaves roll out when someone walks through them.
The concept is a wonderful juxtaposition of nature in an Urban Landscape using the human mind and imagination with technology.
Heijdens's plants have life cycles and botanic structures, and they respond to outside weather by way of sensors installed on the building's roof. The sensors measure temperature, wind, and humidity, and a computer translates this data into growth of the projected plants. "The projected silhouettes are alive; from a digital seed that, in numbers, contains the genetic data of its family," says Heijdens. "A seed drops into the projection, grows and is affected by actual measured rainfall and sunshine; it moves in the real wind; and throughout the day, it turns to follow the sun."
A living digital organism growing onto an indoor space, through which the space regains the natural timeline that it has walled out.
Uniquely generated plant families that grow up, move and behave closely depending on actual sunshine, rainfall and wind as measured live outside. On passing human traffic they bend, loose their seeds and pollinate to other walls throughout the space, to make up a constantly evolving bio system that reveals the character of the space and how its used.
When unpredictable natural elements such as a lifting breeze, a sudden shower, or a setting sun are planned out of our surroundings, the timeline of our everyday is lost.
The above installations and the wondrous nature combined with human technology are simply fabulous art installations.
Do read more here…
Me, I'm a floral designer, nature fascinates me, and how we use nature to add beauty to our lives everyday is what I love doing.
Do visit my website www.spring-blossoms for super flower deliveries in India.
tags: Arts, Floral Design, flower deliveries, ideas, India, India flowers
Posted by Laxmi Lobo in News and Articles on April 20, 2013Comment?
Garden Fairies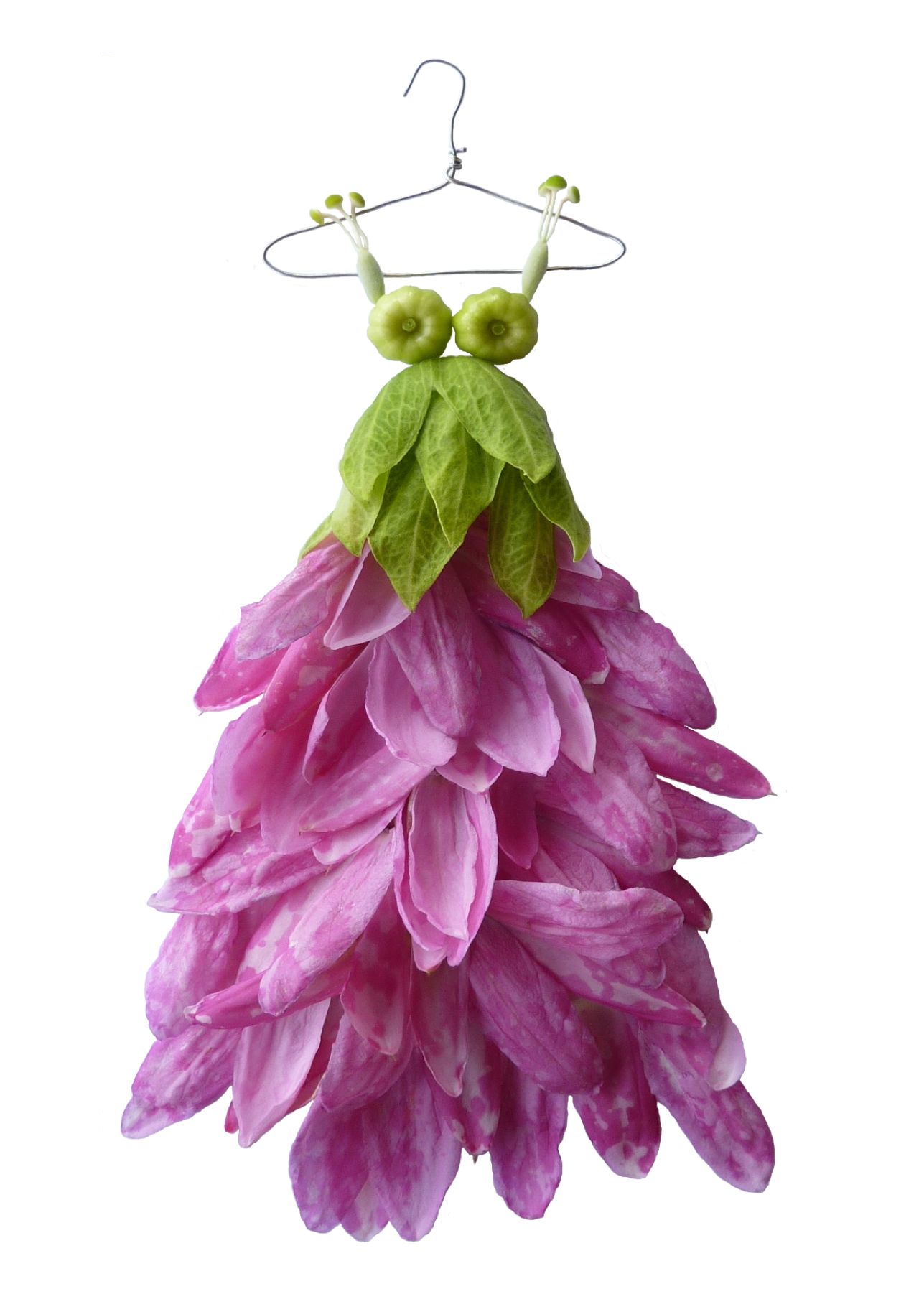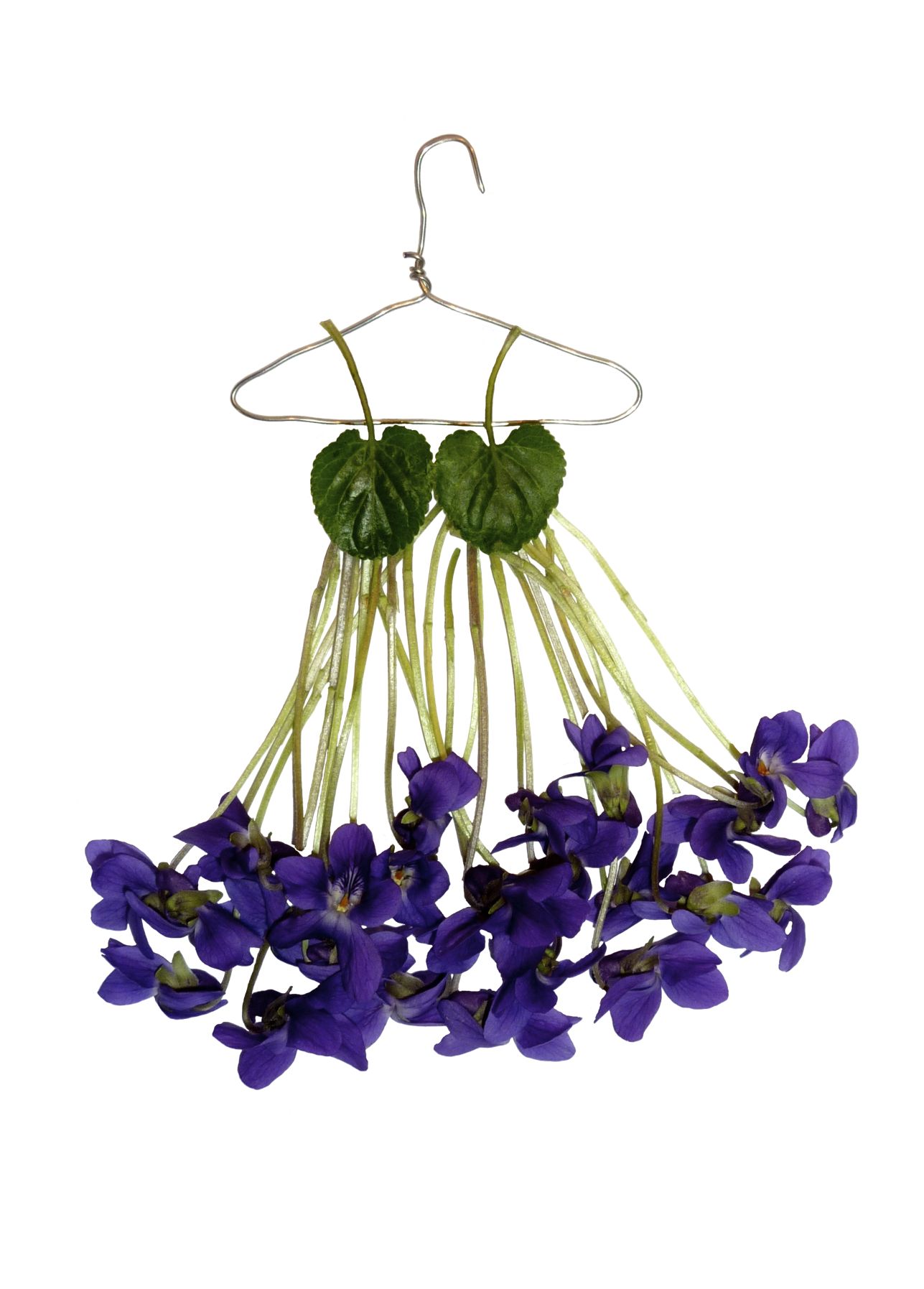 Sandra Alcorn is a a Tasmanian fashion designer and her studio looks out onto a slightly unkempt but enchanting garden. She often take a moment out from her work by stepping into her Garden of Flowers – to pause for thought, feel the warmth of the sun or pick a few flowers and it was in one of those moments that she created the first garden fairy's dress…
This is one of the most beautiful Blogs i've set my eyes on. As a floral designer myself I find Sandra's hobby fascinating.
Creating little Garden fairy dresses combining the creativity of fashion designing with Natures Bounty – Flowers – pretty, dainty and colorfulness of Flowers!!
Do visit her blog Petals and Pins
tags: design, dramatic flowers, flowers, Garden
Posted by Laxmi Lobo in Flower Ideas on April 17, 20134 Comments »
Sweet Wrappings
Xmas_tree.svg
Here's another great idea for Christmas!
Stick red bulls eye sweets after you have finished wrapping with paper. you can use hot glue or quick fix solution
Wrap your ribbon around the sweets for a spectacular effect.
Posted by Nirmala Korade in Gift Flowers, News and Articles on December 15, 20121 Comment »
Imaginative Decorations
Maybe you have some Christmas Tree decorations left over, maybe you go and buy some more to colour co-ordinate with the Flowers available at your Local Florist… either way fill up a Vase and use this look innovately all around the Home!!
tags: centrepiece, Christmas, christmas decorations, dramatic flowers, floral arrangements, Flower, flowers, Holidays, home, India flowers, making floral centerpiece, spring blossoms, vases
Posted by Nirmala Korade in Flower Ideas, Useful tips for flowers on December 11, 2012Comment?
Elongated Floral Designs in Floristry
These Gorgeous Blue Orchids have been artificially coloured to bring drama to this arrangement.
As a florist, my first vision is drawn to the interplay of colours btween the red rose and the white tulip. This is expertly dramatised by the vibrant blue orchid.
If I try to combine these odd colours of royal blue orchid, blood red rose and white tulip in any other floral style I will not get the same dramatic visual effect.
The elongated floral style is particularly suited to combining oddly mixed coloured flowers and surprissingly to a single monochromatic flower arrangement, like white flowers all the way.
White roses, white orchids and white tulips will look equally stunning in this elongated floral display.
Another mention as a florist designer is the creative use of Greens, the thick monstera leaf reflects the light around the floral display. The springeri greens very nicely absorb the light around the floral display. This interplay of light on the grren foliage of the floral display adds to the stunning visual effect.
Call me if you want to create stunning florals and have them delivered in Mumbai