Give Laxmi Lobo a spring of fresh flowers and with a few movements of her deft fingers, this Singapore trained florist creates a stunning flower arrangement. This talented florist in Mumbai is much sought after for flowers online in Mumbai by everyone from regular Mumbai people who we call Mumbaikar to celebrities from across Bollywood and the artists and governmental head honchos. She started Spring Blossoms at a special air-conditioned studio at Dadar, in the heart of Mumbai the commercial capital of India and now Laxmi and her teams of talented florists deliver flowers in Mumbai. As the requirements for Mumbai grew, this flower delivery service has now extended to  Navi Mumbai or Vashi and Thane with Belapur and Nerul.
THE EARLY DAYS
Laxmi started Spring Blossoms retail in March 2004. She started as a brick and mortar shop and soon realised that only a few number of customers will walk into her studio which was essentially just a florist in Mumbai shop, so started the website so that customers order flowers online for Mumbai.
She has trained under the Sogetsu school of Ikebana and also apprenticed florists in Singapore. Her rich years of experience and professional training have made this florist in Mumbai a  shop a well known center for creative flower arrangements and decoration. Laxmi's immense talent ensures that every flower delivery here is a work of art that will be cherished and enjoyed. Laxmi has made sure that she and her teams of florists ensure you good designs and good quality. Prompt service guaranteed.
THE PERSONAL TOUCH
The personal touch makes all the difference, in an online bouquet delivery service and just to order flowers online Mumbai which is what most people search for. The difference between a good flower arrangement and an extraordinarily beautiful one is what you get when you order flowers online in Mumbai specially from Laxmi Lobo's Spring Blossoms website whic has been mentioned as the best flower delivery service by Mumbaikars. The service and website has won accolades from the press and TV biz shows. Laxmi is keen that she and her team of florists personally look into the designing and sourcing of all flowers and foliage.
This is why each floral arrangement is individually and specially crafted to leave the receiver amazed and delighted. When you send flowers to Mumbai sending a Spring Blossom bouquet on special occasions is a wonderful way to convey your feelings and create the right impression in both personal and professional relationships. You can get started right away and send flowers to Mumbai , Thane, Navi Mumbai. Spring Blossoms offers a lifetime discount to its members.
This individual attention and being able to order flowers online have made this florist shop in Mumbai popular and made Laxmi and her team of florists the personal florist of choice to many celebrities as well as corporate heads.
A WIDE SELECTION
Spring Blossoms offers a wide selection of floral arrangements and flowers to choose from. You can choose from lovely classical arrangements or contemporary combinations. There is something for everybody and for every occasion. From weddings to birthdays, a Spring Blossoms bouquet is guaranteed to make that day memorable. Send flowers to Mumbai, Thane, Navi Mumbai today and brighten someone's day!
We also cater to weddings and parties with a special range of floral arrangements. These flowers bring an atmosphere of gaiety and happiness through their strikingly beautiful colours and exhilarating scent.
We help our Corporate clients send flowers to Mumbai, Thane, Navi Mumbai with a touch of class. We supply Stylish Gift Bouquets, Corporate Contracts and Functions using an array of stunning flowers and foliage of the highest quality.
DELIVERING FRESH FLOWERS
When it comes to florist supplies in across India, we use the best source of fresh flowers in the city. We have our own delivery systems to ensure that your flowers reach you fresh, beautiful and perfectly on time. Our commitment to delivery is well appreciated by our clientele, both corporate and individual making us their favourite florist in Mumbai.
As an online bouquet delivery in Mumbai, Spring Blossoms and their team of florists allows you to send flowers from anywhere in the Mumbai and Suburbs. You can also browse through our selection and order online without any hassles.
Send Flowers to Mumbai anywhere.. Same Day Delivery.
ONLINE FLOWER DELIVERY IN MUMBAI
Why does a florist in Mumbai need an online flower delivery in Mumbai today? A website is not just about showcasing a flower delivery in Mumbai; it is also about making the visibility of a floral studio like ours, a Mumbai flower delivery service visible and available for many more residents of Mumbai, not just locally.
Spring Blossoms gets buyers from all across the globe. There is the Indian Diaspora who is always looking for reliable Mumbai flower delivery and other gifting in Mumbai. These people have helped spread the word of Spring Blossoms across communities, as Spring Blossoms the specialist in Online Flower Delivery in Mumbai makes your bouquet personal and always with good, rather excellent service.
We have almost zero complaints, as we ourselves photograph the bouquets which are designed in Spring Blossoms at Spring Blossoms Studio in Mumbai. The designer, Laxmi Lobo is the one who designs your floral arrangement and makes sure that that when book online flower delivery in Mumbai the exact same bouquet as what you see goes out to your nearest and dearest.
How many Mumbai flower delivery services can offer you the same? This is because most of the flower deliveries in Mumbai websites are simply flower aggregators. This means, they do not deliver flowers in Mumbai by themselves. They are only the gifting websites or portals that promise you flower delivery in Mumbai. You will never know where they place the order, some even ask the footpath hawkers who do not use fresh flowers. The bouquet you order for flower delivery in Mumbai will not be sent as the picture indicates on their website.
At spring blossoms, you can be assured that every single bouquet you order is made here in our studio and lovingly delivered with our own online flower delivery in Mumbai system consisting of vans and specially trained delivery persons. We never send two or three bouquets crushed together.  One sees this in the early mornings in Mumbai often, you can be sure that the flower order is messed up! The flower website who is an aggregator has just opened a website for online flower delivery in Mumbai and then sent your flower order to the nearest footpath florist.
THE SPECIAL DESIGNS
You will see so many special designs on the website. All these designs are tested for Flower delivery in Mumbai before the design is passed and photographed in the Spring Blossoms Floral studio. The reason for this is the stunning personal service that our Flower Delivery in Mumbai as a service offers you. The description of how the idea of each bouquet came about is also described by the floral designer Laxmi Lobo. You will be able to read about this on every Mumbai Flower Delivery page when you order flowers online on our website. Besides we are the only Online flower delivery in Mumbai which offers you different angles of the photographs of every bouquet. Proving once again, that your Mumbai Flower Delivery will reach exactly as what you saw in the picture on our website.
We are able to do this simply because we are confident that your Mumbai flower delivery picture is the just the same we send to your best people, friends and family. As mentioned before, even the flowers are photographed in our studio, after grueling delivery sessions. The designs are adapted to suit our traffic conditions and our potholed roads SO I can assure you that not only do we have the most unique design for flower delivery in Mumbai, but we are the BEST ONLINE FLOWER DELIVERY IN MUMBAI with photographs and designs and a website to match.…
Mumbai state of Mind
Genevieve McElroy, puts me in a Mumbai state of mind.
Its been a deluge of torrential rains this last weekend in Mumbai, and that picture translates into a wonderful kaleidescope of the Mumbaikars mind.
Its glorious, the rains, the weather, sometimes dull with deep blues in our mood and grey skies.
Many times the monsoon weather makes nature glorious in Mumbai. Flowers bloom everywhere, and the thirsting tress used to traffic fumes of Mumbai, suddenly start breathing a brightness that translates into the bright pink of Genevieve's flower palette above, making the bright pink shifting to the pure white cineriras flowers a smooth transition, Just like Mumbai makes it transition from dullness to cheer.
Flowers really do convey emotions in myriad ways, this is so evident from the glorious flowers on display above, floating in a bowl of waer, floating like our dreams do on a wet, dull, blue yet clean and bright monsoon Mumbai weekend.
To order Flowers Across India go to SPRING BLOSSOMS FLOWERS UNLIMITED
tags: Asia, Flower, India, mumbai
Posted by Nirmala Korade in Flower Ideas on September 30, 2012Comment?
Your Florist featured in the Femina
"The best way to keep flowers fresher longer is to make sure they are kept in a container with clean' water. Please ensure, that you change the water daily and cut off the sodden stem at the base, this will ensure that the water remains bacteria free and the flower can actually drink' the clean water," says India's premier floral designer Laxmi Lobo of Spring Blossoms, Mumbai.
• "The best way to keep flowers fresher longer is to make sure they are kept in a container with clean' water. Please ensure, that you change the water daily and cut off the sodden stem at the base, this will ensure that the water remains bacteria free and the flower can actually drink' the clean water," says India's premier floral designer Laxmi Lobo of Spring Blossoms, Mumbai. "Put 2 tablespoons of lemon juice, 1 tablespoon of sugar, and 1/4 teaspoon of bleach in a quart of warm water. The acid from the lemon ensures an improved water flow in flower stems, sugar helps buds open and last longer, and the bleach is a preservative to reduce growth of bacteria."
Design Tips
Laxmi provides priceless styling tips to help you plan your flower decoration in terms of space and accessories.
• Keep in mind the space you have around the floral display before you plan a large or small display and where you want to place it.
• Since flowers are inherently beautiful, do not add so many embellishments that you take away from the flowers' natural beauty.
• The container that you use for your floral display is as important as the flowers you choose. Tall containers can be dramatic with few flowers whereas multi•coloured containers will look nicer if the flowers are all of a single colour.
• The background of your floral display has to be considered when designing with flowers. If there is lot of movement behind the floral display, like a hotel display or a passageway at home, then a monochromatic theme will attract the viewers' eye. A background can be enhanced with brightly coloured runners on a dinner table setting; this will make a white floral display look stunning.
• "While decorating with flowers at home for a party that will last late into the night or go on till the wee hours of the morning, choose sturdy flowers like Orchids and Anthuriums rather than hollow stem Gerbera Daisies," suggests Laxmi. This will ensure your flowers look as fresh as when the guests came in.
tags: Business, Cocktail party, Floristry, Flower, India, mumbai, Sweetest Day, Water
Posted by Nirmala Korade in News and Articles on September 26, 2012Comment?
Flower Rangoli for Onam in India
Thiru Onam (from Sravana?) is celebrated in the second half of August (the Chingam month of Kollam Era) when the August monsoon rains come to an end and the summer heat gives way to the pleasant warmth of the Kerala autumn. Anthropologists see in Onam a great fertility rite, the ceremony of Thanksgiving for a plentiful harvest. For Keralites Onam is the celebration of the return of Mahabali, their once and future king. This king once ruled over the Keralites during the Golden Age before caste existed, "when all men were equal, when no one was poor, when there was neither theft nor dread of thieves"
The celebration of the return of Mahabali takes four days for the Hindus. The house and yard are cleaned; a temporary mud stall is put up and washed with cow-dung solution for the royal visitor; flowers are strewn over it for the king to sit upon; pyramid-shaped images of the king called Trikkakarappan, made of wood or clay, are placed upon it as the onlookers applaud and cheer in sheer welcome. Pujas (worship service) are performed during the four days of Onam every morning; parents give children presents, especially dresses on the occasion. Large scale feasts are held at this family reunion — increasingly Onam is becoming a holiday like Thanksgiving which is characterized by family reunion and feasting. The Flower design or Rangoli above is a typical way of dressing the home and the places of worship.
The Flower Rangoli below is made to look like a flower. Various patterns of Flower Rangoli are made with passion and creativity.
Flower petals in various hues and colours are used. The flower rangoli pattern is first sketcked with a white chalk paste and then the petals of various local flowers are filled in.
rangoli3
tags: Festival, Floristry, Holidays, India flowers, kerala, Onam, Thanksgiving
Posted by Nirmala Korade in News and Articles on September 9, 2012Comment?
Festive Garlands in Mumbai
My friend Arun Shanbag has caught the splendour of the festive garlands in the Mumbai flower market. (every picture leads you to his wonderful blog)
This flower market in Mumbai is where, all of mumbai comes to purchase the wonderfully entwined flowers which we mumbaikars call garlands to annoint our Lord, the Elephant God Ganapati or Ganesha with.
The Lord Ganesh is venerated all across India. In Mumbai this festival is particularly heralded with Ganapati Pandals all across the city. The Lord is on every street corner, the festival is a public festival and the community celebrates, different from most other festivals which are celebrated only in the homes.
These festive flower garlands are made of rose petals, strung together in a unique way.
The stringing of garlands is done by hand, entwining thread with the little flowers, sometimes using petals in a formation using flower needles.
The flower sellers entire lifestyle fits into this little cubicle. Notice the clothes and the pictures of deities he worships, the flower seller lives out of this box, even his accounts and cash drawer is in this space.
This double layered spaces shows us how very effectively 6 people can sit and make flower garlands.Its the spirit of Mumbai, always short on space, innovating and with the entrepreneurial 'never say die' Mumbaikar who is showcased in this photograph.
Traditional Lilies used for garlands hang side by side with the blue orchids from Thailand. It seems even Lord Ganesh is enthralled by the imported orchids.
The Mumbai Flower market is a sight to behold, if your in Mumbai at any festive time its a sure tourist destination. Best time to to go to the market to take photographs is around 5 pm when the crowds are less and the lighting is perfect.
Tags: Festival, Floristry, Ganesha, God, India, India flowers, Lord Ganesh, mumbai, Mumbaikar, send flowers to mumbai, spring blossoms, Thailand
tags: Festival, Floristry, Ganesha, God, India, India flowers, Lord Ganesh, mumbai, Mumbaikar, send flowers to mumbai, spring blossoms, Thailand
Posted by Nirmala Korade in News and Articles on September 4, 2012Comment?
Why send Flowers?
There are special occasions and holidays which give you the excuse to send a relative or close friend flowers just to let them know that you are thinking of them.
This is especially appropriate if you haven't written to them or spoken to them on the phone for some time.
In most cases, a surprise gift of flowers will invariably result in a joyous telephone call from the receiver of the gift.
A telephone call is the only way to thank someone for a gift …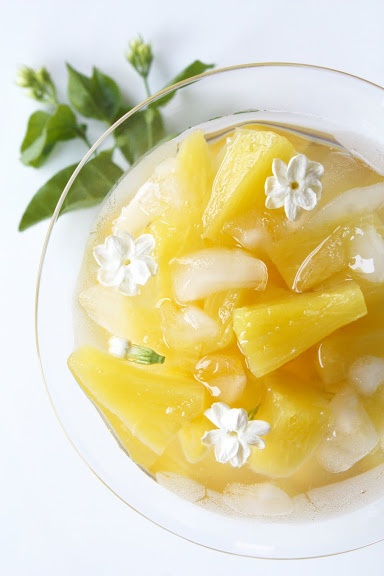 Jasmine infused syrup
pineapple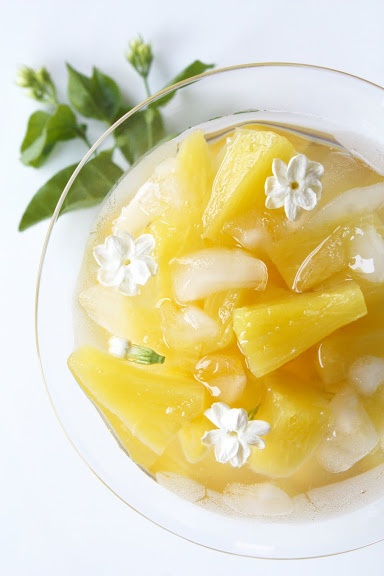 Place sugar, water, and cloves in a large pot; bring to a gentle boil.
Add the pineapple pieces to the syrup, bring the mixture to a gentle boil once more, reduce the heat to a low simmer, and allow to cook, uncovered, for 5-8 minutes.
Turn off the heat and let the pineapple cool completely in the syrup. Do not cover the pot.
Once the mixture has cooled completely, take out the pineapple pieces and cloves. Strain the syrup through a fine-mesh strainer.
Stir the jasmine flowers into the strained syrup and let the mixture infuse at room temperature for about 2-3 hours, then strain out and discard the flowers. If you don't have jasmine flowers, simply add the jasmine extract to the syrup and you're done.
To learn more about Thai Desserts do visit Shesimmers.com
I love flowers and deliver fabulous flower arrangements across India and specially designed one across Mumbai.
Do visit me at www.spring-blossoms.com to send flowers to Mumbai
tags: floral arrangements, flowers, send flowers to mumbai
Posted by Laxmi Lobo in Flower Ideas on October 18, 2013Comment?
Create a Lemon Vase arrangement
lining vase lemon
Its very easy to line a vase with lemon to bring the zesty fragrance of lemons to your floral display.
Take a large cylindrical vase and add to it a small one in the center.
Pack the gap with well cut thick slices of lemon.
Now your ready to add flowers to the center vase.
lemon with flowers
Contrasting colours look fabulous on a bright sunny day and equally lovely to bring cheer to a dull monsoon day.
Flowers from you garden will look just as good.
Do visit my website for great ideas and deliverable flowers across India.
If you have flowers to send in India go to:
www.spring-blossoms.com
tags: Arrangement, centrepiece, dramatic flowers, Floral, floral arrangements, India, India flowers, making floral centerpiece
Posted by Laxmi Lobo in Flower Ideas on September 28, 2013Comment?
Hand carved Soap Flowers
These beautiful images above are soap carvings. They are delicatetly carved by hand in Thailand.
This is an old art form in Thailand, slowly dying out.
I cam across a blog that give you more insights into this industry.
This dying art of making hand carved soap flowers originated in what was known as the little village in northern Thailand of Chiang Rai. The people from the village started carving these soaps as a hobby. Soon the true artist developed it into a successful business to support their families.
All the photos and the video is the work of gifted artist Patcharin Thanomworakul.
The container itself is a work of art. She does not make these but each one is handmade from mango trees, which are plentiful here in northern Thailand.
tags: dramatic flowers, Flower, flowers, gifts
Posted by Laxmi Lobo in News and Articles on September 25, 20131 Comment »
Heard of foul smelling Flowers?
You thought that flowers always smell fragrant, some of these Tropical flowers are seriously foul smelling.
The smell is like dead flesh and vomit inducing.
Can we call these flowers?
Take a look.
voodoo-lily
It's a beautiful pink flower but don't let its good looks fool you. The Voodoo Lily is related to the same family as the Calla Lily, but unlike its popular relative, you should avoid the use of this flower in your floral arrangements. It emits a disgusting rotting flesh odor, which help attract flies and other pollinators, but it won't help you attract any friends!
rafflesia-arnoldii
The Corpse flower is rare and considered endangered. The buds take months to develop and the flower only last for a few days. Found in the rainforests of Indonesia. It emits a strong odor of decaying flesh.
titan-arum-e1344616815671The titan arum can reach heights of 10 feet or more, making it one of the largest and stinkiest flowers in the world. Even though this gigantic flower stinks like decaying flesh and rotten eggs, people having been making trips around the world to see this flower bloom. It's a rare sighting.
For more information on smelly flowers go to Fun Flowers
Posted by Laxmi Lobo in News and Articles on September 19, 2013Comment?
Living Embroidery with Flowers
dress
This is a real flower wedding dress from the "living embroidery collection" from Zita Eleze.
This an absolutely brilliant and creative wedding dress, quite rarely does something take your breath away and this living flower dress is indefinably one of those moments.
"The skirt and trains of the dress were made of little bunches of stipa – this is a grass that is very soft and feels like fur.
The little bunches of grass were then glued onto the silk organza material. The bodice was built up with the same garments used for a normal wedding dress. The little flowers, seeds, and leaves were glued to the bodice giving the impression of a fine embroidery…"
bag
Love it, its brilliant, you can actually be a flower fairy on your wedding day 🙂 and the Parasol below is really my most favorite, it complements the whole attire and its surely a flower fairy weeding in summer.
umbrella
Continue reading here
For delightful Flower deliveries across India do visit www.spring-blossoms.com
tags: dramatic flowers, Flower, flowers, Wedding
Posted by Laxmi Lobo in Flower Ideas on April 29, 20133 Comments »
Lightweeds
An installation by Simon Heijdens that traces and amplifies the leftovers of nature in the urban surrounding.
White silhouettes of trees projected 8 meters high onto the facades of several buildings in a city.
Its branches and leaves are moving either slightly or intense; directly to the measured wind that passes the facade of the building on which it is projected.
Starting full of leaves at dawn, the tree looses one of its leaves each time someone passes it. When the leaf breaks of its branch, it drops down on the ground in an alley nearby. Because the leaves are made of light, they slowly brighten up the alley as they grow in amount over the course of the evening, and form a developing image that reveals the use of the city. The leaves roll out when someone walks through them.
The concept is a wonderful juxtaposition of nature in an Urban Landscape using the human mind and imagination with technology.
Heijdens's plants have life cycles and botanic structures, and they respond to outside weather by way of sensors installed on the building's roof. The sensors measure temperature, wind, and humidity, and a computer translates this data into growth of the projected plants. "The projected silhouettes are alive; from a digital seed that, in numbers, contains the genetic data of its family," says Heijdens. "A seed drops into the projection, grows and is affected by actual measured rainfall and sunshine; it moves in the real wind; and throughout the day, it turns to follow the sun."
A living digital organism growing onto an indoor space, through which the space regains the natural timeline that it has walled out.
Uniquely generated plant families that grow up, move and behave closely depending on actual sunshine, rainfall and wind as measured live outside. On passing human traffic they bend, loose their seeds and pollinate to other walls throughout the space, to make up a constantly evolving bio system that reveals the character of the space and how its used.
When unpredictable natural elements such as a lifting breeze, a sudden shower, or a setting sun are planned out of our surroundings, the timeline of our everyday is lost.
The above installations and the wondrous nature combined with human technology are simply fabulous art installations.
Do read more here…
Me, I'm a floral designer, nature fascinates me, and how we use nature to add beauty to our lives everyday is what I love doing.
Do visit my website www.spring-blossoms for super flower deliveries in India.
tags: Arts, Floral Design, flower deliveries, ideas, India, India flowers
Posted by Laxmi Lobo in News and Articles on April 20, 2013Comment?
Garden Fairies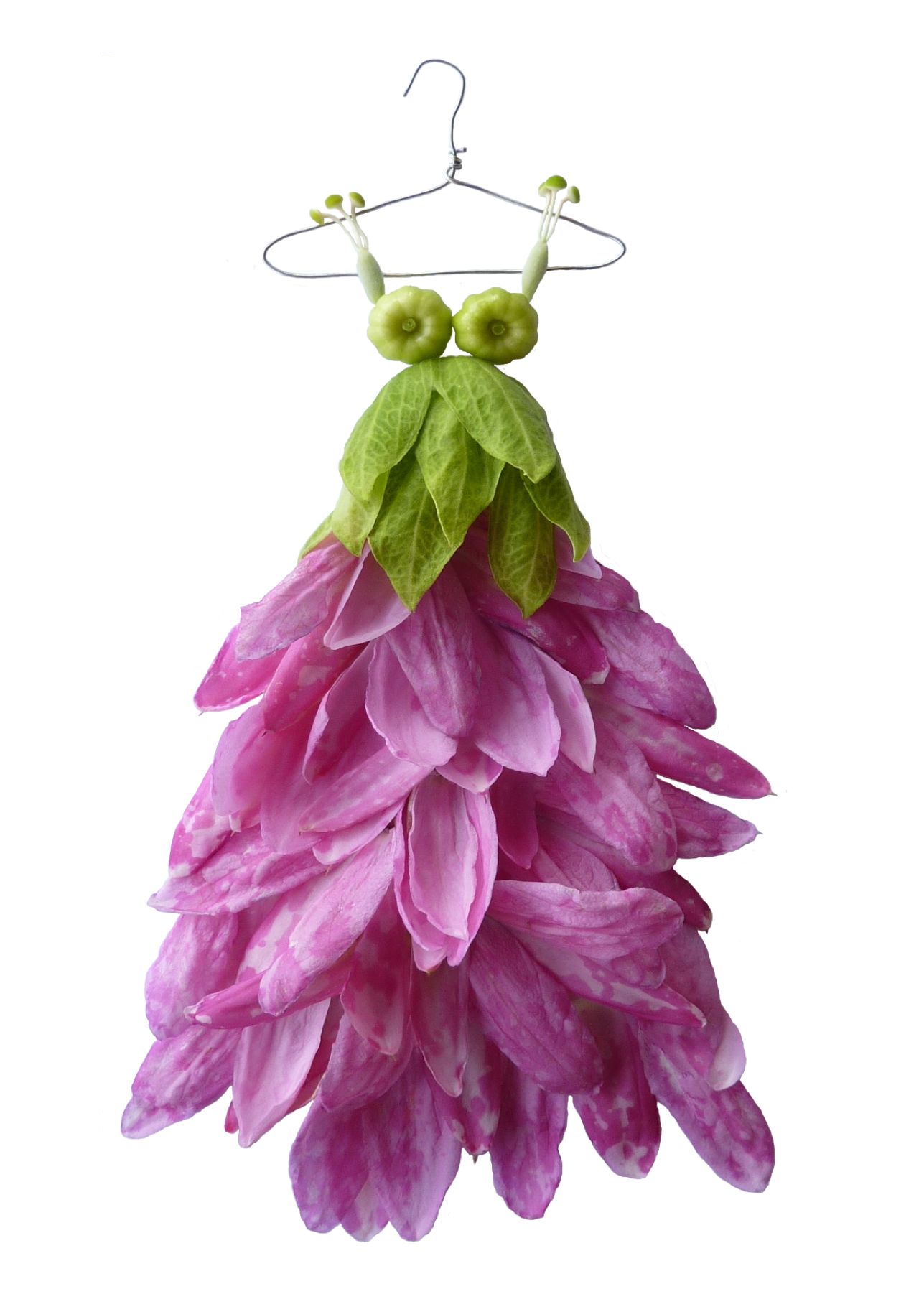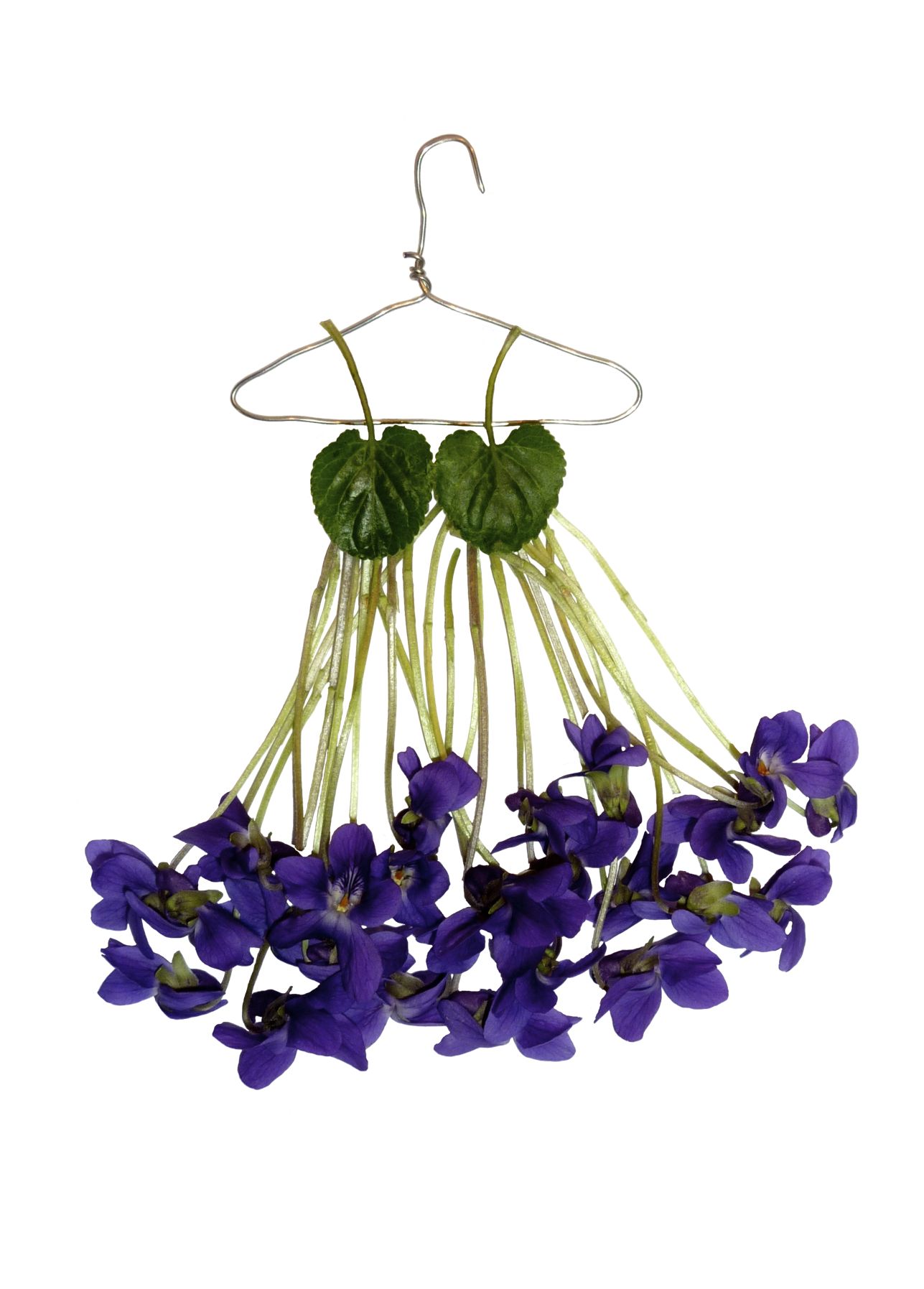 Sandra Alcorn is a a Tasmanian fashion designer and her studio looks out onto a slightly unkempt but enchanting garden. She often take a moment out from her work by stepping into her Garden of Flowers – to pause for thought, feel the warmth of the sun or pick a few flowers and it was in one of those moments that …