Laxmi Lobo started her Floral Studio Spring Blossoms in Mumbai in the year 2004. She had trained with the Sogetsu school of Ikebana and has also apprenticed florist shops in Singapore for a few years, having been a resident of Singapore for a decade.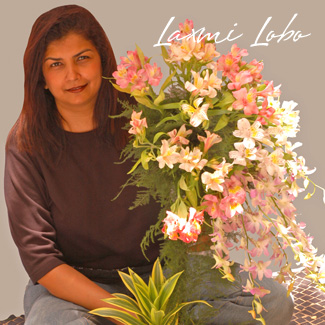 Soon Laxmi Lobo realised that only a studio meant restricting her audience to the limited number of footsteps that came by her studio,the world was fast adapting to the internet and India too was expanding into using the internet fast, Laxmi decided that it was also time to open a website as soon as possible, by the end of 2004 the website of Spring Blossoms was ready. It was one of the pioneering E Commerce Websites for a florist in mumbai. Laxmi has never looked back since then.
HOW IT ALL STARTED
It was a tough proposition training the local 'karigar' to become a florist, Laxmi took special training programs to train her own staff and also make them quality conscious. This lead to a change of attitude and as the internet grew, Laxmi and her team of florist had a lot of access to the different and varied floral designs that were available in other countries.
THE UNIQUE TOUCH
Flower arrangements are not just about putting flowers together, neither is it about combining flowers, it is about adding the perfect accessories too, the foliage. Sourcing this was a requirement that Laxmi realised very soon. She had to personally visit many nurseries in and around Mumbai and persuade them to start selling foliage. Today there are a lot of foliage sellers who cater only to this market.
Foliage makes the flowers in an arrangement look like they dance, like they have a soul, it is like a canvas for the painting of flowers. Any good floral designer knows how much difference the correct foliage makes.
This individual attention to detail and the training that she imparted to her karigar boys has made all the difference between a bouquet and a Spring Blossoms Bouquet.
A COMPREHENSIVE SELECTION
Spring Blossoms offers a very wide selection in terms of price and also in terms of style to cover all budgets and also to cover the different classic styles and very contemporary styles of floral designs. Laxmi Lobo herself being a floral designer has ket abreast of all world styles and constantly visits different floral shows across the globe.
We can also do individual homes and the floral decor required for the parties at home. Along with the need to make stunning entry or entrance arrangements at corporate events or launches. Spring Blossoms can cater to your every floral need.
We help our Corporate clients send gifts along with flowers when they have to do festive gifting too. Besides the HR services of many companies like to welcome their new joiners with a beautiful bouquet from Spring Blossoms.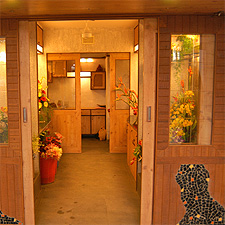 DELIVERING  FLOWERS
Sourcing flowers and foliage is whole section which is constantly being updated on the Spring Blossoms studio agenda.
It is not just about delivering flowers but about delivering an experience and that is why the importance of the Spring Blossoms Floral Studio.
The Spring Blossoms Shop or studio is located in central Mumbai , an area called Dadar which is extremely well connected with all corners of Mumbai and Navi Mumbai the twin city of Mumbai.
Also the far flung suburbs like Thane area are well located within distance of flower delivery of the dadar studio. Which is why your flowers arrive very fresh and is the secret to the spring Blossoms delivering flowers