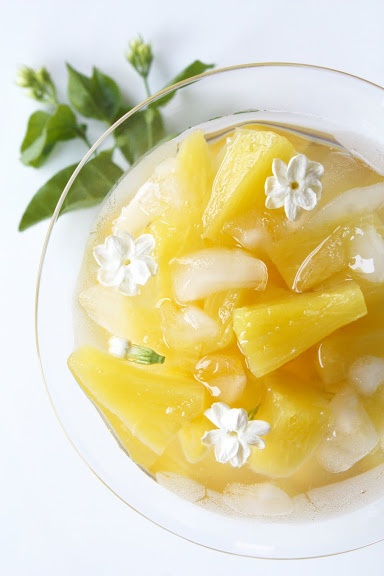 Jasmine infused syrup
pineapple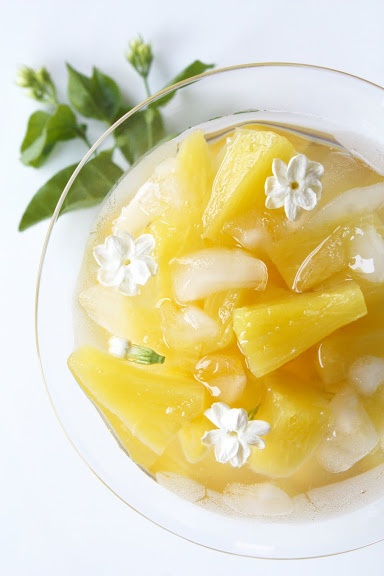 Place sugar, water, and cloves in a large pot; bring to a gentle boil.
Add the pineapple pieces to the syrup, bring the mixture to a gentle boil once more, reduce the heat to a low simmer, and allow to cook, uncovered, for 5-8 minutes.
Turn off the heat and let the pineapple cool completely in the syrup. Do not cover the pot.
Once the mixture has cooled completely, take out the pineapple pieces and cloves. Strain the syrup through a fine-mesh strainer.
Stir the jasmine flowers into the strained syrup and let the mixture infuse at room temperature for about 2-3 hours, then strain out and discard the flowers. If you don't have jasmine flowers, simply add the jasmine extract to the syrup and you're done.
To learn more about Thai Desserts do visit Shesimmers.com
I love flowers and deliver fabulous flower arrangements across India and specially designed one across Mumbai.
Do visit me at www.spring-blossoms.com to send flowers to Mumbai
tags: floral arrangements, flowers, send flowers to mumbai
Posted by Laxmi Lobo in Flower Ideas on October 18, 2013Comment?
Create a Lemon Vase arrangement
lining vase lemon
Its very easy to line a vase with lemon to bring the zesty fragrance of lemons to your floral display.
Take a large cylindrical vase and add to it a small one in the center.
Pack the gap with well cut thick slices of lemon.
Now your ready to add flowers to the center vase.
lemon with flowers
Contrasting colours look fabulous on a bright sunny day and equally lovely to bring cheer to a dull monsoon day.
Flowers from you garden will look just as good.
Do visit my website for great ideas and deliverable flowers across India.
If you have flowers to send in India go to:
www.spring-blossoms.com
tags: Arrangement, centrepiece, dramatic flowers, Floral, floral arrangements, India, India flowers, making floral centerpiece
Posted by Laxmi Lobo in Flower Ideas on September 28, 2013Comment?
Hand carved Soap Flowers
These beautiful images above are soap carvings. They are delicatetly carved by hand in Thailand.
This is an old art form in Thailand, slowly dying out.
I cam across a blog that give you more insights into this industry.
This dying art of making hand carved soap flowers originated in what was known as the little village in northern Thailand of Chiang Rai. The people from the village started carving these soaps as a hobby. Soon the true artist developed it into a successful business to support their families.
All the photos and the video is the work of gifted artist Patcharin Thanomworakul.
The container itself is a work of art. She does not make these but each one is handmade from mango trees, which are plentiful here in northern Thailand.
tags: dramatic flowers, Flower, flowers, gifts
Posted by Laxmi Lobo in News and Articles on September 25, 20131 Comment »
Heard of foul smelling Flowers?
You thought that flowers always smell fragrant, some of these Tropical flowers are seriously foul smelling.
The smell is like dead flesh and vomit inducing.
Can we call these flowers?
Take a look.
voodoo-lily
It's a beautiful pink flower but don't let its good looks fool you. The Voodoo Lily is related to the same family as the Calla Lily, but unlike … read more